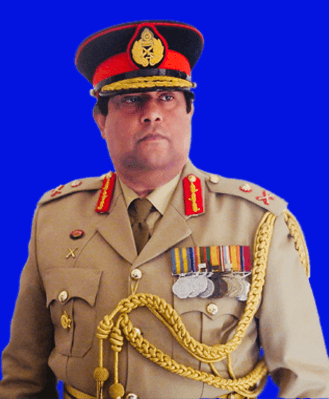 Major General G R H Dias VSV USP ndc psc IG
---
Major General G R H Dias was born on 26 April 1964. He is a proud product of Thurstan College, Colombo. During his school life, he had been a brilliant student in all academics. Apart from that he had been a very good sportsman. To name few; in year 1976 as a grade six student he represented collage in Boxing, Cricket, Rugby and Football and continued till he left school. Also taken part in Athletics and Table Tennis at inter house level. After the Advance Level examination in year 1983, young Gunasinghe Rukmal Hamanga Dias joined the Sri Lanka Army as an Officer Cadet to the Officer Cadet Intake 19, on 5 March 1984. Upon the successful completion of officer cadet training, he was commissioned as a 2/Lieutenant on 16 November 1985 and posted to the prestigious Regiment of Sri Lanka Artillery.
During his 33 years of dedicated service he has held many Command, staff and instructional appointments.
To name, the Command appointments are:

Commanding Officer 8 SLA
Commander 514 Brigade
Commander 112 Brigade
General Officer Commanding of 59 Division
General Officer Commanding of 65 Division
General Officer Commanding of 12 Division
Commander Army Training Command
The main staff and instructor appointments were:
General Staff Officer 2 at Directorate of Operations
General Staff Officer 2 at Artillery Brigade
Commandant School of Artillery
Colonel (GS) at SLAVF
Centre Commandant Special Forces
Centre Comdt Sri Lanka Artillery
Principle Staff Officer SLAVF
Brigadier (GS) SFHQ(J)
Director - Institute of post graduate studies at KDU
During his distinguished military career, Maj General Dais has attended number of local and overseas courses. To name:

In 1986, Artillery Young Officer Course in Pakistan
In 1990, Regimental Survey Course in India
In 1994, Artillery Advance Gunnery Course in India
In 1997, Gunnery Staff Course in Pakistan
In 2001, Senior Command Course in India
In 2013, National Defence Course in Bangladesh
Also he is a graduate of Army Command and Staff College
In addition to the above, he has also participated to Pacific Environment Security Conference at Honolulu, Hawaii.
In recognition of his unblemished service to the motherland, he was awarded with following service medles:
VISHISHTA SEVA VIBHUSHANAYA
UTTAMA SEVA PADAKKAMA
EAST HUMANITARIAN OPERATION
NORTH HUMANITARIAN OPERATION
PURNA BHUMI PADAKKAMA
NORTH AND EAST OPERATIONS MEDAL
VADAMARACHCHI OPERATION MEDAL
RIVIRESA CAMPAIGN SERVICE MEDAL
50 TH INDEPENDENCE ANNIVERSARY MEDAL 1998
SRI LANKA ARMY 50 TH ANNIVERSARY MEDAL 1999
SRI LANKA ARMED SERVICES LONG SERVICE MEDAL 1979
Major General Dias is married to Mrs Thanuja Dias and blessed with two daughters, Saranya and Samitha.
Major General Dias is the Chairman of Army Boxing Committee. Also he handled the Army Muaythai (Thai Boxing) Committee as its founder Chairman since 08 March 2017 to October 2017. Presently he discharges his duties as the Commander Security Forces (Central) and as the Colonel Commandant of Sri Lanka Artillery in addition to these two appointment he overlook the duties as a Commander Army Training Command.