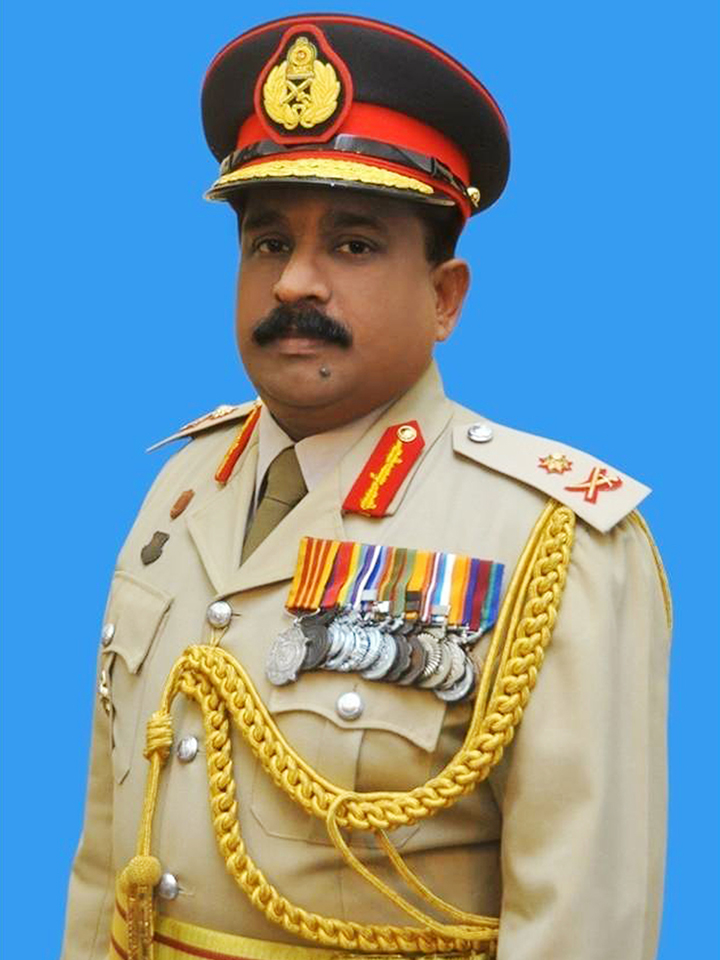 MAJOR GENERAL KPA JAYASEKERA WWV RSP USP ndc psc
Major General K P A Jayasekera WWV RSP USP ndc psc was appointed as the 17th Commander of the Security Force (East) effective from 21 November 2018.
Born on 19 October 1964 in the great Province of UVA, he completed his primary education from UVA College Badulla and furthered his studies from Central College Badulla. After the Advanced Level Examination, he joined the Army as an Officer Cadet on 21 December 1984. He was commissioned into one of the most prestigious Infantry Battalions of the Sri Lanka Army, the First Battalion, the Gemunu Watch in December 1985 after completion of his officer cadet training at Sri Lanka Military Academy. Besides his regimental appointments as Platoon Commander, MTO, Adjutant, Company Commander, Second -in-Command he had commanded one of the reputed Infantry Battalions that is 4th Battalion the Gemunu Watch of Sri Lanka Army during the era of very high intensity counter insurgency operations. He had held many staff & instructor appointments at all levels including at Sri Lanka Military Academy & Staff Collage.
He was awarded with second highest gallantry award, Weera Wicrama Wibushanaya once and third highest gallantry award Rana Soora Padakkama thrice for his bravery actions in counter insurgency operations and many other medals including Uttama Seva Padakkama, Videsa Sewa Padakkama, Battle Casualty Medal and few others. He commanded 212 Infantry Brigade in a high intensity situation in Northern Sri Lanka during the period of 2007/2008 and held the appointments of Director Operations and Director Training at AHQ and commanded two Infantry Divisions namely 68 Division in Pudukudiyirippu Mullaitivu, 14 Division Colombo, 22 Division in Trincomalee before the present appointment of Commander Security Forces (East). Major General Aruna Jayasekera was appointed as the Colonel of the Regiment of the Gemunu Watch on 03 October 2018.
Being the first Commandant of the newly established Officer Career Development Centre, he guided to establish a fully fledged training centre for middle grade officers of tri-forces of Sri Lanka and had the experience in organizing and coordinating Sri Lanka Army Defence seminars in 2015 and 2016 as the Director Training.
Besides attending all the basic courses in his Army Career, Major General Aruna Jayasekera had attended his young officers' course in India and graduated from Defence Services Staff Course, Wellington, India and Senior Command Course from Army War College, MHOW (India). He has obtained 3 MSCs with first class in Masters on Defence & Strategic Studies from University of Madras and obtained first class in Masters on War Studies & Defence Management National Defence University of Islamabad Pakistan while attending the Allied Officer War Course. He was also a graduate of National Defence University of the Peoples' Liberation Army, China by attending the Annual Symposium Course in 2011. Major General Jayasekera was a graduate of National Defence College of Bangladesh and obtained a MSC on Strategic Studies and Development Studies from Bangladesh University of Professionals. He was a graduate from National Defence University in Washington DC while attending a seminar in Near East South Asia (NESA) in USA..
He served as the Deputy Contingent Commander in MINUSTA in Haiti and was the Head of the Delegation on a visit to Mali to recce on pre deployment of troops under MINUSMA. He has attended the 1st International Jungle Warfare seminar held at Amazons Command in Manaus - Brazil and delivered a lecture on Sri Lankan experience on Jungle Warfare. He had been the Head of the Delegation to witness the India – Sri Lanka Joint Exercise 'MITRA SHAKTI - 2015' and he was a member of the 1st TEMTEST workshop arranged by US Military in Jakartha - Indonesia.
He was the pioneer of conceptualizing the first Multi National Field Training Ex Cormorant Strike 1 and 2 being the Director of Special Operation Commander. He had been the Ex Director for the 3rd time in year 2017 in Ex Cormorant Strike.
Major General Aruna Jayasekera is a proud father of a daughter. His wife, Mrs. Sujeewa Jayasekera is a teacher of Gateway International College, Colombo. He is a professional sportsman where he had contributed much to Sri Lanka Army Tennis as the Chairman of Army Tennis Committee and has achieved many medals and awards. He is a recipient of Regimental colours over the age limit of 45 & 50 and the Championship of Defence Service Tennis Tournament in year 2018. In addition, playing badminton, cricket, football, swimming, listening to music and dancing are among his interests